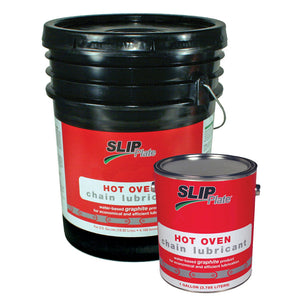 SLIP Plate® Hot Oven Chain Lubricant 5-Gallon Pail
---
---
SLIP Plate® Hot Oven Chain Lubricant is designed around unique, natural graphite that offers superior lubricity under extreme conditions. This water-based emulsion effectively carries the graphite to the chain pins and bushings, lubricating the entire chain. The unique binder system utilized creates a very durable coating. The unique particle distribution allows graphite particles to penetrate very tight spaces unlike other competitive products.
Benefits:
Dry film, graphite technology, dries very quickly on hot surfaces.
Creates a slick, non-stick surface, ideal for build-up areas.
Reduces mechanical wear and can extend operating life of equipment.
Not affected by temperature extremes when properly applied and dry.
Will not attract or trap dirt or grit, leading to increased part wear.
Graphite powder is a natural, environmentally friendly mineral lubricant.
Water-based formulation that will not smoke, create an odor or catch fire.
Can be applied while the oven is in operation.
SLIP Plate® hot oven chain lubricant is registered with NSF under H2 category acceptable for non-food contact.